Aris Kosmides is an avid RC flyer in Thessaloniki, Greece. He was curious to see how well AltimeterThree would perform in his gliders, and here's his report on his experiences.
AltimeterThree by Jolly Logic
This new gadget is a very interesting tool for RC enthusiasts.
I had the chance to test the unit, and I am very enthusiastic about it.
This airborne unit is just 50 X15 X18 mm, so it is small enough to fit even in very small fuselages, and it weighs a scant 10,4  grams!
First you need the download the pertinent software on your Smartphone, and then connect it with the airborne unit.
It connects via Bluetooth with smart phones or tablets, and it records data from your flight. You can call it a black box, but you don't have to crash in order to get the data.
Before you fly you must select your mode from the following options: (Airplane, Glider, Quadcopter, Glider, Helicopter, Rocket, Raptor, Kite, Experimental).
Once you land all data is transferred to your Flight Review screen. You get flight duration data from take off time to landing. This is done by use of accelerometers in the unit, and it has been very accurate for all my flights. It will also give your Maximum altitude during the flight. On a chart page it provides  the vertical profile. Finally (if you have GPS on your phone) it can point your take off location on the map . If you want to share this data with friends that can easily be accomplished from the software with many possible options.
In the past I had some bad experiences with smart phones and drones. So I wouldn't dare to flight first time with my new Xplorer 4000 glider. My old small FlyingStyrokit Focke Wulf 190 was my choice for the first flight. I flew it for 2mins 49 seconds and I tried to fly as high as I could possibly see the plane. And that was 388,3 meters!
My next flight was with the Hyperion Cap-580 which flew some aerobatics for 3:54 and a max altitude of 200,9 meters. Then I was ready to get in the most interesting mode of Gliders with my F5J Xplorer2 4000.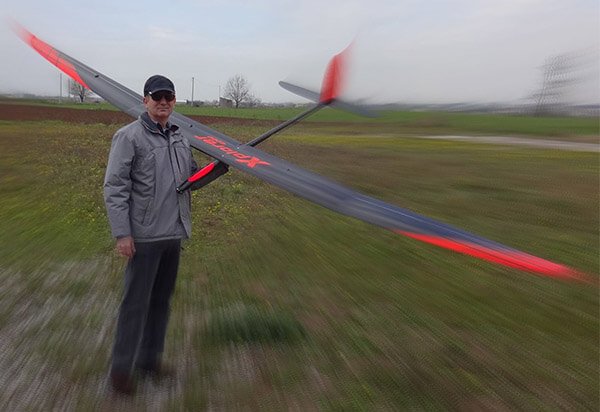 I flew four times and I loved the AltimeterThree. Each time the vertical profile gave me lots of information to consider and evaluate my flight. Besides AltimeterThree I had the ALTMR2 to compare the accuracy of the altimeter data. The ALTMR2 is an Altitude Motor Run Timer (AMRT) device approved by FAI for F5J competition. It is made from Greek Electronics Co. and I consider a vey accurate unit. During my glider flights the maximum difference between the two altimeters was 80 cm. and the average difference was 50 cm. I believe this accuracy is excellent for RC use. The difference between the two is that the ALTMR2 records the start height which is the maximum height achieved from take off till 10 seconds after motor stops, but the AltimeterThree records the Max Altitude from entire flight. So during my fifth flight I climbed to 179,6 according to ALTMR2, but then after about six minutes I found some thermals and climbed up to 195,4 meters according to AltimeterThree. I am sure that by now all glider pilots already wish for a special version of the AltimeterThree which will point both start height and Max height.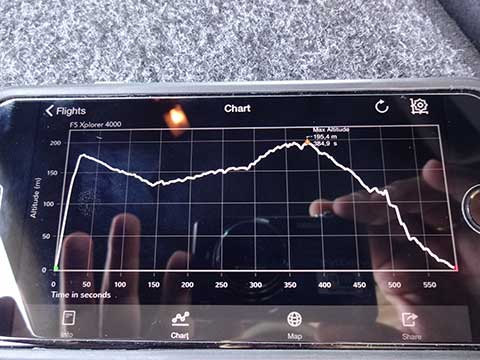 You won't have to wait for long because I am already speaking with John Beans, President of Jolly Logic. I believe that this small gadget can easily change to something which will revolutionize the way we compete and practice with gliders.
In Greece we have many small RC clubs and a strong gliders community, but it is never easy to find several timekeepers and organize F5J FAI events.
The next thing I am sure glider pilots will ask from Jolly Logic is to record the flight path on the GPS map. This is also in the plans of a future project. To do so the unit must have a GPS chip and antenna, but I am not sure if it will worth the size and weight penalty.
For a last flight I decided to fly the Cap-580 as low as I could possibly do shooting touch and go's.
I did 12 of these in 6:13 at a max altitude of 20.7 m. The chart looked like a cardiogram!
More information about this product can be found at www.jollylogic.com, and you can make sure your smart phone or device is compatible with the unit before you purchase one.
With all that said and a price tag of about $100 I give it 5/5 stars and I can't wait for AltimeterFour, well done Jolly Logic!
Aris Kosmides
Note: Just as Aris has suggested, we will be adding a "Glide Start" marker to the next release of the AltimeterThree app.