Product Description
AltimeterThree is a flight altitude recorder that is controlled by your smartphone or tablet.
If you would like to collect and share flight data, then this is the altimeter for you. It is small enough to go almost anywhere, and it can used for almost any flying activity.
It captures your notes and observations on each flight.
You can view an interactive graph of altitude (and for certain sports, a climb/sink and/or 3-axis acceleration) and produce a Microsoft Excel™ spreadsheet of flight data for further analysis.
If GPS is enabled on your phone, the location of each flight is saved, and can be viewed on a map.
Integration with Facebook, Instagram, Twitter, and Flickr allow you to share your flights with just a tap.
AltimeterThree includes a recharging cable, and can be recharged from any USB port.
We suggest you install the app before purchasing the altimeter, to make sure your device is compatible.
Please consult our helpful Bluetooth Setup Guide.
» Required: Apple iPhone or iPad running iOS 7+ or Android phone or tablet running Android 4.2 or higher.
| | |
| --- | --- |
| Size: | 49mm x 18mm x 14.5mm (1.9″ x 0.7″ x 0.57″) |
| Weight: | 10.5 g (0.37 oz) |
| Calibrated Range: | 29,500 ft (9000m) |
| Max flight time: | Rocket, Airplane, Glider, Quadcopter, Raptor, Helicopter, and Experimental modes: 6 hours |
| | Kite mode, firmware 2.28: can be updated to 2.291 STK for over 16 hours |
| | Kite mode, firmware 2.30 STK: over 24 hours |
| | |
| --- | --- |
| | Made for iPhone 11, iPhone X, iPhone 8, iPhone 7, iPhone 7s, iPhone 6s, iPhone 6s Plus, iPhone 6, iPhone 6 Plus, iPhone 5s, iPhone 5c, iPhone 5, iPhone 4S, iPhone 4, iPad Air 2, iPad mini 3, iPad with Retina display, iPad Air, iPad mini 2, iPad (4th generation), iPad mini, iPad (3rd generation), iPad 2. |
| | Works with most devices that run Android 4.2 and higher. Please download free app to test your compatibility before buying. |
Features
How to Use AltimeterThree
User Guide
The full-color User Guide for AltimeterThree is available here.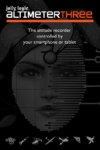 Venting: Since AltimeterThree uses a pressure sensor to measure altitude, it needs to be exposed to outside air pressure. If you are using AltimeterThree in a rocket, you will need to add three vent holes around the fuselage or payload bay in a place that won't be blocked by the nosecone or the parachute.
To maintain the health of the rechargeable battery, recharge AltimeterThree every six months whether you use it or not.
Bluetooth Setup Guide
Wireless setup is never fun, but hopefully our Bluetooth Setup Guide can make it easy.

Tip: Frequently the best way to re-connect with AltimeterThree is via your mobile device's Settings>Bluetooth, rather than the app.