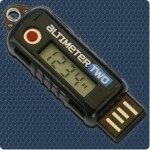 *** FOR RELEASE ON MAY 25 ***
Jolly Logic Announces Release of the AltimeterTwo
May 25, 2011 — Danville, CA
Jolly Logic today announced the commercial release of the AltimeterTwo, a small rechargeable barometric and accelerometer-equipped altimeter for model rockets that includes advanced flight analysis features.

In addition to peak altitude, the AltimeterTwo reports:
ŒŽ''""• ŒŽ''""•ŒŽ''""ŒŽ''""•ŒŽ''""•ŒŽ''""•ŒŽ''""•ŒŽ''""•ŒŽ''""•ŒŽ''""•ŒŽ''"»

Top speed (in MPH or KPH)

ŒŽ''""• ŒŽ''""•ŒŽ''""ŒŽ''""•ŒŽ''""•ŒŽ''""•ŒŽ''""•ŒŽ''""•ŒŽ''""•ŒŽ''""•ŒŽ''"»

Engine burn time

ŒŽ''""• ŒŽ''""•ŒŽ''""ŒŽ''""•ŒŽ''""•ŒŽ''""•ŒŽ''""•ŒŽ''""•ŒŽ''""•ŒŽ''""•ŒŽ''"»

Peak and average acceleration under thrust

ŒŽ''""• ŒŽ''""•ŒŽ''""ŒŽ''""•ŒŽ''""•ŒŽ''""•ŒŽ''""•ŒŽ''""•ŒŽ''""•ŒŽ''""•ŒŽ''"»

Coast time to apogee

ŒŽ''""• ŒŽ''""•ŒŽ''""ŒŽ''""•ŒŽ''""•ŒŽ''""•ŒŽ''""•ŒŽ''""•ŒŽ''""•ŒŽ''""•ŒŽ''"»

Apogee to ejection time

ŒŽ''""• ŒŽ''""•ŒŽ''""ŒŽ''""•ŒŽ''""•ŒŽ''""•ŒŽ''""•ŒŽ''""•ŒŽ''""•ŒŽ''""•ŒŽ''"»

Ejection altitude

ŒŽ''""• ŒŽ''""•ŒŽ''""ŒŽ''""•ŒŽ''""•ŒŽ''""•ŒŽ''""•ŒŽ''""•ŒŽ''""•ŒŽ''""•ŒŽ''"»

Descent speed (in MPH or KPH)

ŒŽ''""• ŒŽ''""•ŒŽ''""ŒŽ''""•ŒŽ''""•ŒŽ''""•ŒŽ''""•ŒŽ''""•ŒŽ''""•ŒŽ''""•ŒŽ''"»

Total flight duration from ignition to landing
All of these statistics can be reviewed on the LCD screen of the AltimeterTwo following each flight, even in bright sunlight. The AltimeterTwo weighs just 6.7 grams (0.24 ounces) and is the same size as the company's popular AltimeterOne which it released last year.
"One of the key design goals for the AltimeterTwo was to make it convenient to use," said John Beans, Jolly Logic's founder. "You can drop it into a payload section, or just clip it to your parachute line. It doesn't need a lot of babying, and it can be moved from rocket to rocket easily." The addition of a sophisticated 3-axis accelerometer allows the AltimeterTwo to work in any orientation, with no special mounting requirements, and now provides instant speed measurements for every flight.
The flight statistics provided by the AltimeterTwo can be useful in comparing the effect of different motors, delays, airframe modifications, weight, and parachute recovery equipment. During recent beta testing, advance units were in high demand during the height of this year's high school science fair season.
For more information, go to www.jollylogic.com. The AltimeterTwo is available now for $69.95, and can be ordered online from www.apogeerockets.com and selected local retailers.
Media contact: John Beans, john@jollylogic.com
¯ ¯ ¯